Product Summary
The DRV134PA is an audio balanced line driver that convert a single-ended input to a balanced output pair. These balanced audio drivers consist of high performance op amps with on-chip precision resistors. The DRV134PA is fully specified for high performance audio applications and have excellent ac specifications, including low distortion (0.0005% at 1kHz) and high slew rate (15V/ms). The applications of the DRV134PA include audio differential line driver, audio mix consoles, distribution amplifier, graphic/parametric equalizers, dynamic range processors, digital effects processors, telecom systems, hi-fi equipment, industrial instrumentation.
Parametrics
DRV134PA absolute maximum ratings: (1)Supply Voltage, V+ to V–: 40V; (2)Input Voltage Range: V– to V+; (3)Output Short-Circuit (to ground): Continuous; (4)Operating Temperature: -55℃ to +125℃; (5)Storage Temperature: -55℃ to +125℃; (6)Junction Temperature: +150℃; (7)Lead Temperature (soldering, 10s): +300℃.
Features
DRV134PA features: (1)Balanced output; (2)Low distortion: 0.0005% at f = 1kHz; (3)Wide output swing: 17Vrms into 600W; (4)High capacitive load drive; (5)High slew rate: 15V/ms; (6)Wide supply range: ±4.5V to ±18V; (7)Low quiescent current: ±5.2mA; (8)8-PIN DIP, SO-8, and SOL-16 packages; (9)Companion to audio differential line receivers: INA134 and INA137; (10)Improved replacement for SSM2142.
Diagrams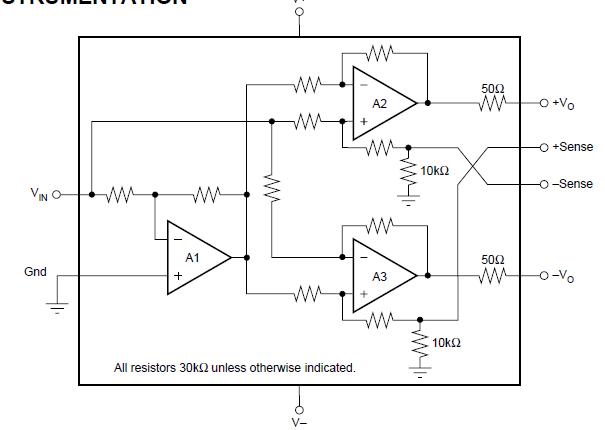 Image
Part No
Mfg
Description
Pricing
(USD)
Quantity

DRV134PA

Texas Instruments

Audio Amplifiers AUDIO LINE DRIVERS

Data Sheet



| | |
| --- | --- |
| 0-1: | $2.88 |
| 1-25: | $2.63 |
| 25-100: | $2.11 |
| 100-250: | $1.83 |


DRV134PAG4

Texas Instruments

Audio Amplifiers AUDIO LINE DRIVERS

Data Sheet



| | |
| --- | --- |
| 0-1: | $2.31 |
| 1-25: | $2.11 |
| 25-100: | $1.63 |
| 100-250: | $1.55 |